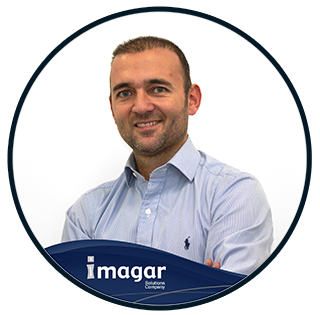 César Gómez
COMMERCIAL DIRECTOR
Technical Engineer in Computer Management from the University Alcalá de Henares.
Has carried out his career at
Imagar Informática, currently as CCO (Chief Commercial Officer).
Agora Solutions, as Account Manager, Key Account Manager and Commercial Manager.
Agora Solutions, as Functional Analyst of applications and corporate webpages for clients on the web, participating in SW development, and evolutionary and corrective maintenance.
SATEC, as Application Development Engineer for mobile and web technology.
Deimos Space, as Software Engineer participating in the development of applications for mobile devices and their interfaces with webpages.
His roles are
Commercial management. Planning, analysis, design, implementation and development of annual sales budget and plan.
Strategic planning and management of all resources in the commercial and marketing department.
Key Account Management.
Development of partnership agreements and strategic alliances.
Cost control and productivity on the operative chain.
Carrying out market studies to identify needs of potential clients.
Execution and tracking of sales plan and marketing plan.
Additionally
Executive MBA from ESIC Business School.
MBA, specialized in Commercial Management from IDE – CESEM.
Master's Degree in Software Engineering from the University Alcalá de Henares.
Programa Superior en Marketing Digital por ESIC Business School.
Professor of Business Schools in the areas of Commercial Management and Digital Marketing & E-Commerce.